My Serenity Clay Face:
"A thousand Faces"
How many faces do we see in our lifetime?
Then there are faces that we never forget.
Face it! — Don't lose your face!
"Veronica gave Jesus her veil to wipe his face.
And she got it back with the imprint of his face.
Holy Face — Face of God— The Feminine Face of God—-
Seeing God in the Face of the Beloved.
This Face here speaks to be deeply.  I wanted to form it in clay and I did!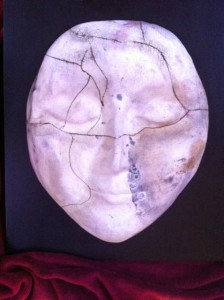 She became Quan Yin for me!
After a low firing in a kiln, she was put into a larger earth pit, cushioned with sawdust next to many other clay vessels.  Twigs and wood was added and set on fire.  Before it was covered with metal sheets, seaweed and other natural things were thrown in for special effects.  Then in approximately 8 hours the fire cooled down and we uncovered the  the pit fire grave.  I was saddened, when I found this large face broken in pieces, but I saved the parts.  After months had passed, I still wanted to see this face and so finally she got glued together and mounted.
She reminds me, that we all go through a lot in life and we have scars.
They are not always visible like hers, but she is whole now and I love her how she is.
She speaks to me of compassion and deep inner peace, which we all want.
"Our world bears scars of inhumanity, but we are greater than our past."
"God's peace is infinite— more than enough to heal the world."
"Peace be within you." Psalm 122:8
Some words are from "unity" booklet 2013